Pricing your home competitively is one of the most important things to get right from the beginning. It's even more critical when the buying environment is cooling and average days on market are increasing. The majority of showings on a newly listed home come within the first few weeks upon entering the market. After that initial buzz, views drop significantly. That initial marketing time is critical since this is the Seller's ideal window to secure a buyer.

As illustrated in the chart below, there is a clear link between a home's ultimate selling price compared to its original list price when price reductions occur. Avoiding price reductions will ultimately yield the highest and best offers on a home. Therefore, identifying a home's fair market value and pricing accordingly is key to a netting a higher price with less days on market, and likely a little less stress.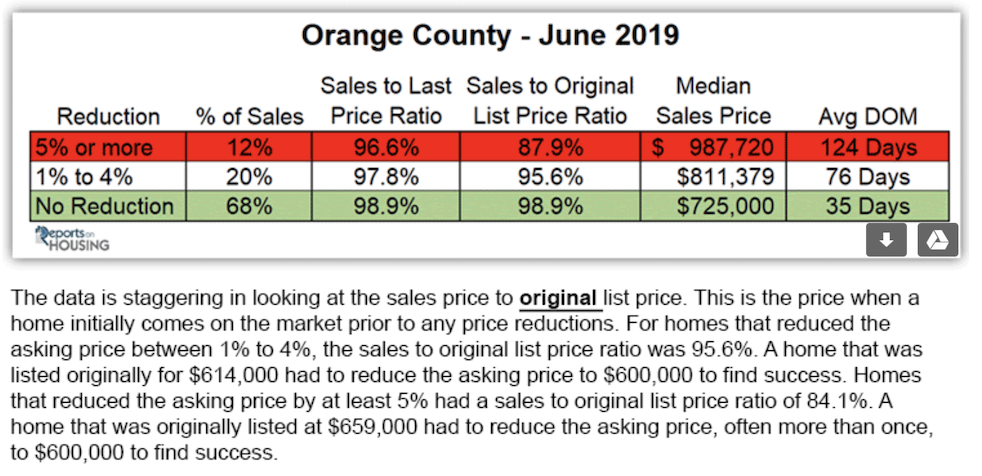 Disappointments with an overpriced home can include a slower response in buyer activity, as buyers tend to make a decision based on other homes priced in line with fair market value. Potential buyers might start to take notice of the number of days a house has been listed and assume there is something wrong with the house, or the owners are getting desperate, and submit a low offer. The more a home is overpriced, the fewer buyers will be enticed to come to see it.

Working with the right Realtor to carefully arrive at the proper initial asking price, taking into account the most current market data along with the property's condition, location and upgrades, will keep days on market to a minimum and net you the most money. Don't get caught chasing the market down.